The Need for a Carpet Cleaning Process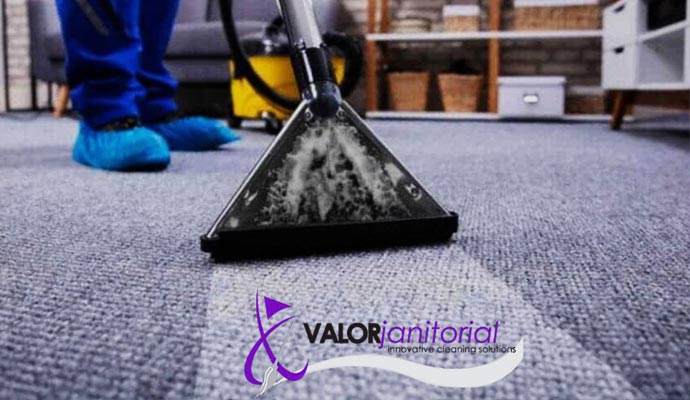 Thorough carpet cleaning can present a major challenge. Why? Because dust mites, bacteria, and other allergens can become imbedded in carpet over time. This leads to bad odors, an unhealthy environment, and possible heath issues for you and any visitors to your business. So what should you do now?
Contact Valor Janitorial for carpet cleaning services in Dallas, Arlington, and other regions of Texas. We provide quick and reliable carpet cleaning services for commercial properties at a fair price. To get a free estimate, call 214-238-9550 or contact us online.
Carpet Cleaning Process by Valor Janitorial
We have experts in commercial carpet cleaning, Green Clean technology, the latest resources, effective methods, and years of experience in providing quality services for you. We begin with a free estimate. Depending on the type of carpet, we can employ Spot and Stain Removal or Hot Water Extraction Carpet Cleaning. Even if the carpet is in a High Traffic Area, we can recommend the best technique, then add Carpet Deodorizing. We also have experts to install protective film for carpets in commercial spaces.
Need a Carpet Cleaning service, call at 214-238-9550 now!
Why Choose Us?
Valor Janitorial is your expert in carpet cleaning for your commercial properties. We offer:
24/7 Emergency Response
Free Estimates
Locally Owned
Insured up to $1,000,000
Provide the best in carpet cleaning services
Additional Services
Along with Commercial Carpet Cleaning, we can meet your needs in:
Let Valor Janitorial Clean Your Commercial Carpets
We understand the importance of offering the best service to our customers. Our professional carpet cleaning process can meet the needs of your commercial properties in Dallas, Texas, and the surrounding cities in the DFW Metroplex. Call 214-238-9550 or contact us online now!