Multi-Housing Unit Common Areas Cleaning in Dallas, Texas
A typical multi-housing unit is a large area with interior halls, entrances, entertainment spaces, pools, clubhouses, laundry areas, and other facilities. Because many families live under one roof, this space is pretty high-traffic. Multi-family members share all of these common facilities. As a result, if the area is not sanitized, many people's health may be jeopardized. For this, the entire area must be completely sanitary and well-maintained. In order to serve the purpose, Valor Janitorial is here to the rescue. Our company provides professional janitorial services for large industrial areas including professional buildings, medical facilities, sporting complexes, warehouses, schools, restaurants, and others.
If you want to book our services, make sure to call us at 214-238-9550 or visit the link here to schedule an appointment with us online.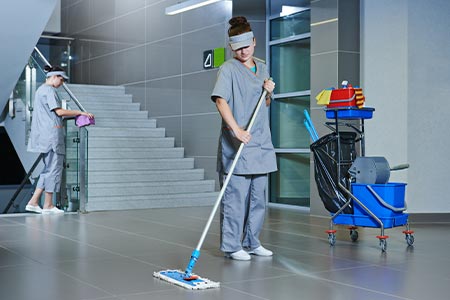 Why Do You Need Janitorial Services for Large Facilities?
Janitorial services are a type of commercial cleaning that includes more than just professional cleaning. Depending on the industry, the service varies. So, the janitorial service in multi-housing units provides cleaning services based on the common areas. It is required because:
Professionalism: In-house cleaners cannot serve the entire purpose of cleaning and sanitizing in larger facilities. However, janitorial services treat the property with the utmost care.
Maintain a clean environment: Janitors are responsible for the cleanliness and proper maintenance of any facility. They are always aware of proper sanitation. That is how you can always have a healthy environment.
Good impression: Janitorial service appears to be more professional than general cleaning service. It makes a good first impression on visitors.
Reduce health risks: When the overall environment is healthy, infections, bacteria, and other germs that could harm your health are limited.
Maintain Your Property's Hygiene with Valor Janitorial
Our company is a top-ranked local company for professional janitorial services, offering free estimations across the areas of Dallas, Arlington, Fort Worth, Frisco, Plano and nearby surroundings in Texas. Give us a call at 214-238-9550 when you need our services. You can also visit the link for more information online.