Stone Floor Cleaning Service in Dallas, Texas
Natural stone floor adds beauty and a sophisticated look to any room. As it comes from the earth, it contains a natural uniqueness to it. Besides being extremely durable and luxurious, it is highly resistant to weather and wear.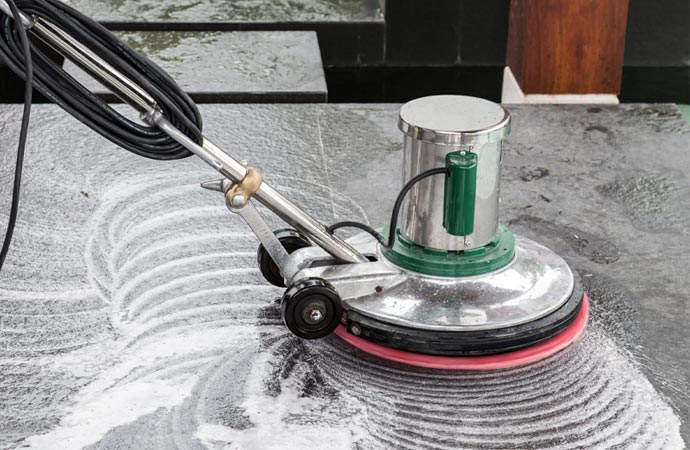 If you compare it to tiles, stone floors are not easily reproduced like tiles. Tiles can be reproduced from synthetic materials. Natural stone floors add value to your home, so it is wise to keep it in good condition. And for that, you need to get help from professionals as taking care of it by yourself may ruin your floor.
If you live in Addison, Bedford, Cleburne, Denton, or surrounding areas, call Valor Janitorial at 214-238-9550 for your perfect stone floor cleaning service. Get a free estimate today.
Our Stone Floor Cleaning Process
The exact process differs on different floors depending on the condition. Here is a general method of how we clean stone floors:
Upon contacting us, our expert tile and floor medic will come to your place to analyze the floor to determine the treatment. Then we will pursue further steps.
We will apply the solution to the floor and leave it to dwell for a while.
Then we will work with rotary cleaners to work on the surface with the solutions.
After that, we will wash the floor with our powerful water extractor system to clean the stone floor of all the dirt, old sealers, and other contaminants.
We will wash the floor a few times to ensure the floor contains no dirt and is neutralized, free of any soiling.
We will then apply sealers once the floor is completely dry. The sealers can be of many types- matte, high solid glossy, satin or natural. It depends on your choice.
Trust Us to Clean Your Stone Floors in Dallas & Fort Worth, TX
Our company is not only about cleaning, but we believe in professionalism. We are a locally owned, licensed company that can provide you with 24/7 emergency service. No matter the industry or space size, we are ready to clean it anyway. You can depend on us as we tend millions of square feet every day; this shows our experience. Our services include janitorial services, floor polishing, office cleaning, and more. Click here to make a reservation today or call us at 214-238-9550 to learn more about our products and services.