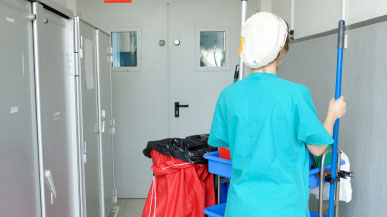 Emergency care clinics accommodate high volumes of human traffic day in and day out. Patients enter these medical facilities to get quick treatment for common illnesses and minor injuries. Anywhere a lot of people gather regularly is a place that's at risk of becoming a breeding ground for bacteria, viruses and other disease-causing microbes. To minimize the risk of spreading infections in your clinic let Valor Janitorial clean and disinfect your emergency care facility.
Valor Janitorial specializes in deep-cleaning medical facilities in the Dallas-Fort Worth area. We provide high quality janitorial services for emergency care clinics across North Texas so you can protect your medical personnel and patients from possible infection. Clinics are expected to be shining examples of hygiene and we fully understand that. Valor Janitorial's experienced staff uses only the latest in equipment along with hospital-grade cleaning solutions that you can trust.
Through the years, our clients in the health care industry have depended on us so they can focus on treating patients while we keep their facilities clean and disease-free. Our cleaning services are designed to be flexible enough to cater to whatever customized needs your clinic may have. We'll apply fast, safe and effective cleaning services just the way you need us to for your total peace of mind.
We provide the most advanced and state-of-the-art commercial cleaning services in North Texas. Please call our friendly and knowledgeable staff for a free estimates. Or if you like contact us with any of our easy to use website contact forms.
---
Valor Janitorial is the leading provider of tile floor cleaning and polishing services in the Dallas-Fort Worth area. Valor's many years of experience, modern equipment and best methodologies in the industry, make them the top choice for floor cleaning need in DFW.
Valor Janitorial offers commercial carpet cleaning and floor cleaning and polishing in the Dallas-Fort Worth area. Please contact Valor Janitorial for a FREE estimate today. You'll be glad you did!