Granite Cleaning & Polishing in Dallas-Fort Worth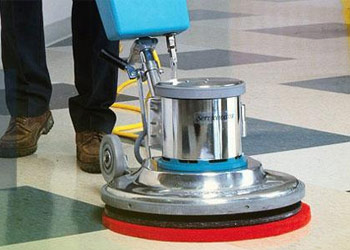 For granite floors or surfaces that appear dirty, dull, scratched, etched, cracked, chipped, or otherwise damaged, don't replace. Our experts at Valor Janitorial can restore your granite, not just improving its appearance, but restoring it to like-new. We service polished, honed, leathered and antiqued finishes on granite surfaces, as well as black absolute honed surfaces and other unique finishes.
We are the granite cleaning and polishing leader in D/FW. Valor Janitorial has the experience and expertise to professionally clean, polish and seal granite surfaces for commercial and residential customers. Let us fully restore your granite to a stunning, like-new condition.
Valor is the D/FW industry leader in commercial or office cleaning, commercial carpet cleaning, pressure washing and more. Call today at 214-238-9550 or contact us online to learn more about granite cleaning and polishing, free estimates, and to arrange a consultation.
Valor Cleans & Polishes D/FW Granite Floors to a Sparkling Finish
Valor Janitorial can restore a smooth, beautiful granite appearance. We clean and polish granite using high-speed diamond technology optimized for granite restoration. We have restored and maintained high-traffic granite floors without the need for additional restoration for more than 18 years. We will remove scratches dand feather floors to blend finish without dipping the surface. We provide monthly granite floor and surface maintenance to ensure you'll never need granite restoration if you choose so.
Valor Process Revitalizes Granite Surfaces Throughout Dallas-Fort Worth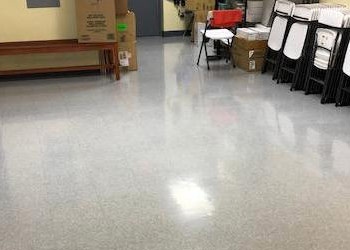 Clean: We use natural stone cleaning solutions to cut through tough grease and grime and remove germs and dirt from your countertops. We steam clean your home's stone surfaces with heavy-duty, truck-mounted machines to remove all dirt from the pores and to clean the grout. We never use abrasive substances or chemical cleaners that could damage the stone's surface or put your family's health at risk.
Polish: Utilizing specialized polishing machines and stone polishing pads that correspond to your particular stone type, we polish the stone's surface to a desirable shine. This process removes debris and gives the stone a smooth, even look.
Seal and buff: Once your stone has been cleaned and polished, we then seal the surface with commercial-grade, penetrating sealer to protect against future staining. While applying sealant is an optional service, we highly recommend sealing your stone surfaces to protect them from pitting and stains.
Maintenance: Our technicians will go over procedures on how to best care for your granite. We always recommend cleaning your stone with neutral PH cleaners, as the wrong cleaning products can etch the stone, leaving marks or stains.
Trust Valor For Affordable, Superior Granite Cleaning & Polishing in D/FW
Commercial cleaning has gone high-tech. Because of newer sanitation standards, the old mop and bucket have been replaced by new micro-fiber tools, environmentally safe products, and advanced cleaning methods. Valor Janitorial leads the way in the evolving commercial janitorial services industry in Dallas Texas. We give the D/FW Metroplex a new approach to traditional cleaning. We call it The New Clean™ and would love to put it to work for your business.
24/7 emergency service
Free estimates
Locally owned
Insured up to $1,000,000
Contact Valor Janitorial today at 214-238-9550 or contact us online to learn more about granite cleaning and polishing, our professional cleaning and janitorial services, and to request a free estimate. We offer assistance in Arlington, Aubrey, Azle, Balch Springs, Bedford, Benbrook, Alvarado, Burleson, Colleyville, Dallas, Fort Worth, Mesquite, Lake Worth, Duncanville, Ennis, Euless, Everman, Farmers Branch, Fate, Ferris, Flower Mound, Forest Hill, and throughout our Dallas-Fort Worth service area.