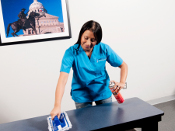 Having a clean and sanitary working environment can lead to better employee performance and productivity. Our professional DFW Metroplex office cleaning solutions will make sure your facility is maintained and organized for optimal performance. Every worker on our commercial janitorial team has received comprehensive professional office cleaning training that includes classroom, written and hands-on instruction. We want to make sure your business looks and functions at its best, so we only use top of the line commercial cleaning equipment and techniques. Reputation, reliability, and customized, environmentally conscious practices should be non-negotiable when it comes to your commercial janitorial service needs.
---
Valor Janitorial is the leading provider of floor cleaning and polishing services and commercial carpet cleaning services in the Dallas-Fort Worth area. Valor's many years of experience, modern equipment and best methodologies in the industry, make them the top choice for floor cleaning needs. Please contact us for a FREE estimate.
Valor Janitorial is the NUMBER ONE choice for professional Janitorial Services in Dallas, Texas. Contact Valor Janitorial for a FREE estimate. You'll be so glad you did!
FAQ
When do cleaning companies come to clean the office?
We tend to come clean your office after normal work hours. This way no one is disturbed during our cleaning process and you can come into a clean office in the morning.