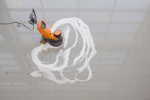 Valor Janitorial understands the value of a first impression, and your floors are often the first thing visitors see to form their impression. Valor Janitorial's Dallas-Fort Worth commercial floor polishing services will help enhance the image of your facility. We accomplish this by designing a customized floor maintenance program tailored to project the strongest first impression you want each guest to have upon entering your facility.
Commercial Floor Refinishing Services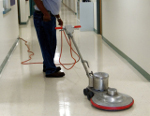 Tile floors can show their age and traffic over time. Our services can help with the following:
Dirt build-up
Dull floors/Difficult Cleaning
Dirty Grout
Discolored, Dirty or Stained Tiles
Moldy Grout Lines
Falling and Slipping Concerns
Trust the Professionals at Valor Janitorial for Your Commercial Floor Polishing & Cleaning in DFW
Our experienced and trained staff are able to understand your special needs and develop a cleaning schedule based upon your requirements. Every commercial cleaning team member has received comprehensive professional training. Valor Janitorial crew members know they are highly valued and respected, and they treat our clients with the very same respect.
Concrete Floor Polishing in Dallas-Fort Worth
Valor Janitorial is the NUMBER ONE choice for professional Janitorial Services in Dallas, Texas. Contact Valor Janitorial for a FREE estimate. You'll be glad you did!