Wood Floor Cleaning and Polishing in the Dallas, Texas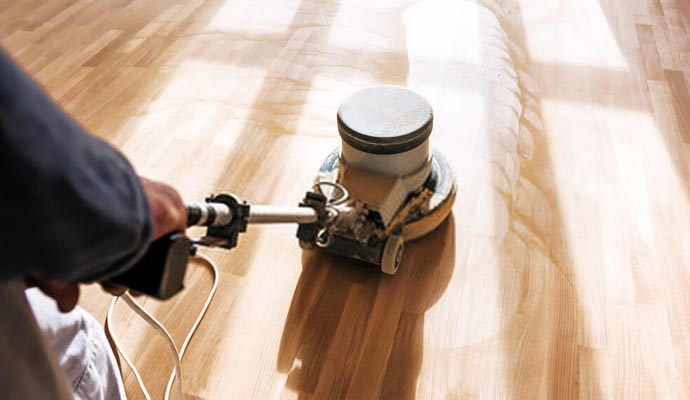 Natural wood makes an excellent floor covering material for any commercial space. Wood adds warmth, comfort and a touch of class underfoot that few other flooring types can provide. However, wood floors are vulnerable to heavy human traffic, exposure to dust and spills. As the years pile on, regular cleaning methods just won't cut it. Your floors can go from classy to ugly if you don't apply the necessary cleaning practices that will maintain your floor's form.
If your wood floors are looking dated, it may be time to seek professional help. Valor Janitorial is the leading provider of wood floor cleaning and polishing services in the Dallas-Fort Worth area. We have the tools, the expertise and the manpower to bring your wooden floors back to their newly installed glory in no time at all.
When you call Valor Janitorial in, we'll conduct a free inspection of your flooring. Based on the type of wood you have and the condition that it's in, we'll give you the best cleaning recommendations along with a detailed quote. We will only perform the tasks that you approve, so there's absolutely no risk in dialing our number and having us in your place to see how we can help.
Valor Janitorial uses only the most up-to-date cleaning methods, state-of-the-art equipment and gentle cleaning agents to deliver a safe and effective cleaning job. We guarantee that your floors will not peel, discolor or crack as a result of the cleaning services we provide. We treat every floor that we clean like it belongs to a family member, so expect us to exercise the utmost care when you hire us to clean and polish your wood floors.
We take pride in providing you the safest and most effective commercial cleaning services in North Texas. Please call our friendly staff for free estimates. Or if you like contact us with any of our easy to use website contact forms.
---
Valor Janitorial is the NUMBER ONE choice for professional Janitorial Services and Office Cleaning services in Dallas, Texas and the surrounding cities in DFW.
Valor Janitorial offers Commercial Carpet Cleaning and Floor Cleaning and Polishing in Dallas, Texas. Contact Valor Janitorial for a FREE estimate. You'll be glad you did!