Warehouse Floor Cleaning Services in Dallas-Fort Worth
Warehouse space needs that dull floor shined up? Look no further than Valor Janitorial for the most professional warehouse floor cleaning services throughout Dallas-Fort Worth. We work day or night to fit our clients' schedules, always confident in our ability to bring you best results. Whether your warehouse is 1,000 or 100,000 square feet, we have the personnel and equipment to provide total satisfaction.
Our customers appreciate our advanced warehouse floor cleaning service, which adheres to OSHA guidelines for cleanliness and safety standards. We adhere to strict compliance with the latest EPA guidance and CDC health protocols. Be confident that your warehouse will be in excellent hands.
Look no further than Valor Janitorial throughout the Dallas-Fort Worth Metroplex. Call 214-238-9550 or contact us online to learn more about warehouse floor cleaning, or to arrange a consultation.
Valor is Your Warehouse Floor Solution in D/FW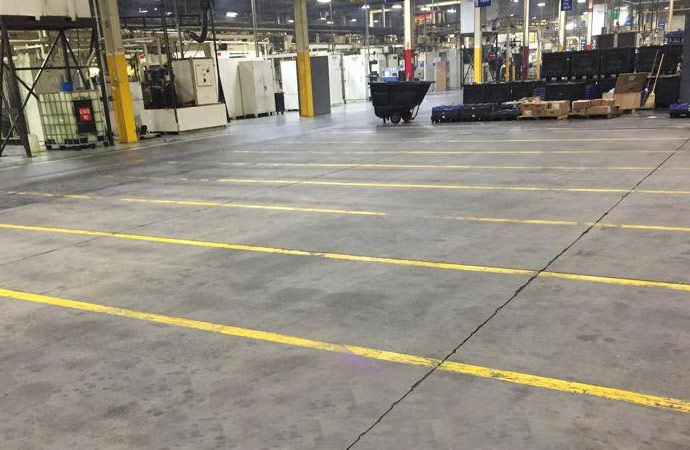 For heavy traffic areas in your warehouse, such as where machinery loads and unloads, large floor mats can protect against wear and tear after warehouse floor cleaning. Apply concrete sealant to your floors every two or three years, both inside and out, to prevent staining. Concrete floors should be buffed regularly so that they retain their shine. A high-speed buffer service by our Valor Janitorial professionals will leave your concrete floor gleaming.
Trust Valor For Warehouse Floor Cleaning in D/FW
Commercial cleaning has gone high-tech. Because of newer sanitation standards, the old mop and bucket have been replaced by new micro-fiber tools, environmentally safe products, and advanced cleaning methods. Valor Janitorial leads the way in the evolving commercial janitorial services industry in Dallas Texas. We give the D/FW Metroplex a new approach to traditional cleaning. We call it The New Clean™ and would love to put it to work for your business.
24/7 emergency service
Free estimates
Locally owned
Insured up to $1,000,000
Contact Valor Janitorial today at 214-238-9550 to learn more about warehouse floor cleaning, our professional cleaning and janitorial services, and to request a free estimate. We offer assistance in Alvarado, Burleson, Colleyville, Dallas, Fort Worth, Mesquite, Lake Worth, and throughout our Dallas-Fort Worth service area.