Commercial places like large offices, industries, organizations, schools, restaurants, etc require proper cleaning promptly. Even after a thorough cleaning, viruses and bacteria remain on surfaces and these can only be killed by disinfecting. Disinfecting can reduce the risk of spreading disease by removing all kinds of germs, bacteria, or any other micro organism from the surface.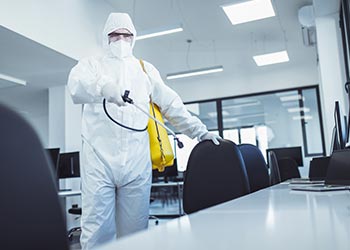 Valor Janitorial is well known as the best disinfection service provider and has been providing the most effective disinfection services along with cleaning for commercial places for a long time. Our crews are trained enough to maintain a germ-free, safe, clean and sterile environment as we use environmentally friendly disinfectants. We can provide you safest working environment with our complete disinfection services. So, call 214-238-9550 anytime to take services from us.
Why Should You hire Professionals for Disinfection Services?
Valor Janitorial never compromises with quality. Customer satisfaction is our main concern. We provide our customers with the best possible services.
No Compromises on Quality: Professional disinfection improves quality. Our experts will thoroughly clean and disinfect high-traffic areas and work surfaces.
Require Less Time: Our best cleaners will disinfect your office. You and your employees need not worry. You can relax and let us handle everything.
Boosts Productivity: Professional cleaning boosts productivity, creativity, and confidence. We will try our best to keep your employees healthy, safe, and energized.
Ensure Safe Environment: Office workstations and other high-traffic areas must be cleaned and disinfected. We're here to help you keep a safe environment for the benefit of your employees' health.
Our Other Services
Confide in Valor Janitorial for Best Disinfection Services