Clorox 360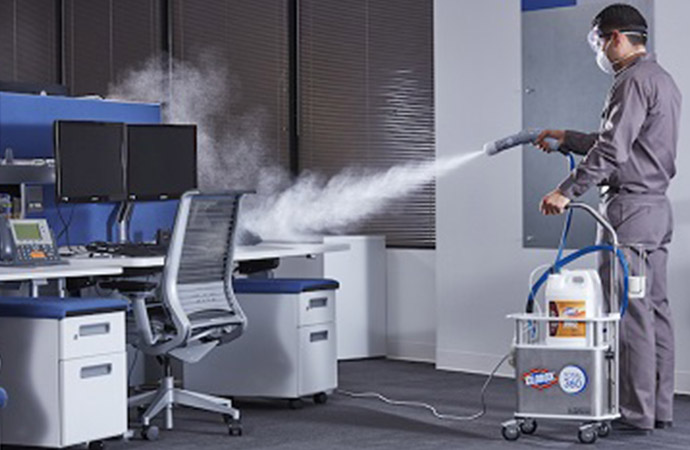 Clorox is a name that is synonymous with cleaning and killing germs. It is also a popular brand that people gravitate toward when they need a cleaning agent that has a proven track record for efficacy in cleaning. As effective as Clorox is at killing germs and keeping homes as well as office clean, they have gone one step further and created a revolutionary cleaning system in Clorox 360.
The Clorox 360 cleaning system uses an electrostatic spray technology that is popular in the agricultural and automotive industries. This technology is used to effectively distribute pesticide and paint, respectively. The static electricity that is used in the system effectively makes both adhere to the surfaces they are supposed to adhere to.
This system allows you to deliver the cleaning and disinfecting power of Clorox in such a way that you don't miss any part of the surface you are trying to clean and disinfect. This technology lets you treat hard-to-reach surfaces, ensuring that you clean and disinfect all areas of your facility effectively. This also ensures that no time, effort, and money is wasted in keeping your facility clean and safe from germs.
How the Clorox 360 System Works
Much like other electrostatic spray systems, Clorox 360 works by releasing a negatively charged aerosolized disinfectant. The negatively charged particles don't stick to each other in the air, ensuring that the spray is distributed evenly and lands on your surfaces in an even coating. Because the negatively charged particles actively seek a surface to land on but repel one another, they don't vie for the same space but rather gravitates toward surfaces that don't have any of the substance on it yet.
This system ensures that all surfaces are indeed coated with the disinfecting solution, helping guarantee that all areas of your home and facility get the germ-killing benefit of Clorox. This Clorox 360 spraying system effectively beats out other delivery systems when it comes to disinfecting surfaces since it reaches even surfaces that you can't easily see. This makes the Clorox 360 System one of the best, if not the best, disinfectant delivery method around.
Valor Janitorial and the Clorox 360 System
When you need to have the surfaces in your facility in the DFW Metroplex and Greater Dallas, Texas disinfected after regular janitorial cleaning or professional cleaning, Valor Janitorial uses this innovative Clorox 360 System. Whether you need to disinfect your facility after commercial carpet cleaning and floor polishing, the use of the Clorox 360 System helps ensure that all surfaces that need to be covered are indeed covered by this powerful germ-killing solution.
If you want to learn more about this system or need our help with your professional cleaning requirements, contact us today at 214-238-9550 and we will gladly assist you.