24/7 Trash Pickup & Disposal Support In Dallas, TX
Are you looking for a waste management company for your daily waste pickup and disposal in Dallas? We can help you with waste, garbage, trash, and recycling service for your business. Whether you own or manage a restaurant, multi-family dwelling, medical office, grocery store, or commercial business, we deliver the solutions you need.
Valor Janitorial is your professional trash pickup and disposal facilitating company in Dallas, TX, and the surrounding area. We have the skill and necessary experience to serve as your waste management dumpster rental company offering the highest quality services and customer care in the Dallas area.
Please call us today at 214-238-9550 to know more about our service with free estimates!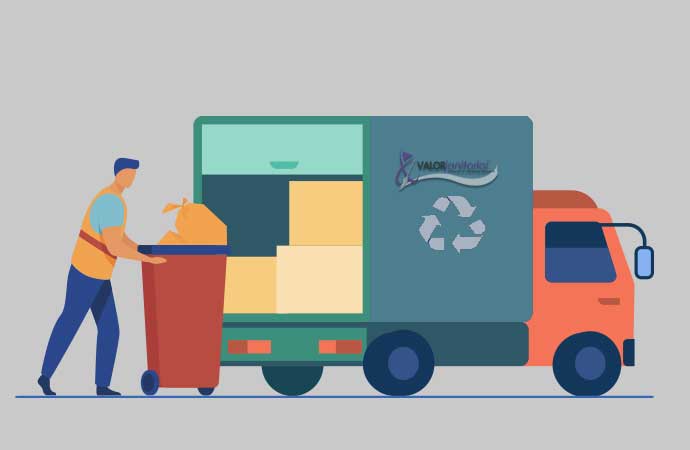 Your Trusted Waste Management Support In Dallas
Our top priority is to provide an outstanding customer experience that results in 100% satisfaction. We feel that our customers are entitled to high-quality dumpster rental services. Our goal is to provide a dumpster rental service that is quick, easy, and affordable. We provide same-day dumpster rental as well as guaranteed service within 24 hours of placing your request.
With our experience, our family-owned and operated company offers respect, trust, dedication, integrity, and a commitment to exceeding the expectations of our customers for dumpster rental services. We are bonded and insured. We also have workers' compensation for our employees. We strive to deliver complete customer satisfaction for each and every dumpster rental service, providing quality, affordable pricing, and excellent customer service.
Why Choose Us For Your Garbage Pickup and Disposal In Dallas
Serving for the waste management in Dallas, TX, we are proud to be able to arrange the delivery of and/or manage a variety of temporary and permanent waste disposal necessities, including different sizes of:
Self-contained and stationary compactors
Front-end containers
Roll-off dumpsters
We also assist our customers incorrectly recycling their waste products, such as cardboard, pallets, paper, and other items. We have a reputation for coming up with innovative and cost-effective solutions for the companies we work with. We've even helped some firms recycle useless food products into pig food.
Apart from trash pick up and disposal, we also provide janitorial service for Office Cleaning, Nightly Office Cleaning, Commercial Space Cleaning, Restroom Cleaning, Concrete Floor Cleaning, Marble Floor Cleaning, Commercial Carpet Cleaning, and many more!
You can reach us in Addison, Azle, Bedford, Carrolton, Denton, Everman, Fate, Garland, Haslet, Irving, Justin, Krum, Lillian, Milford, Oak Leaf, Pantego, Rockwall, Sanger, Trophy Club, Venus, Westlake, and nearby communities of Dallas, TX to avail our janitorial services any time.
Please contact us at 214-238-9550 or contact us online to book an appointment to get our janitorial services.