Free Inspection for Wood Floors in Dallas, Texas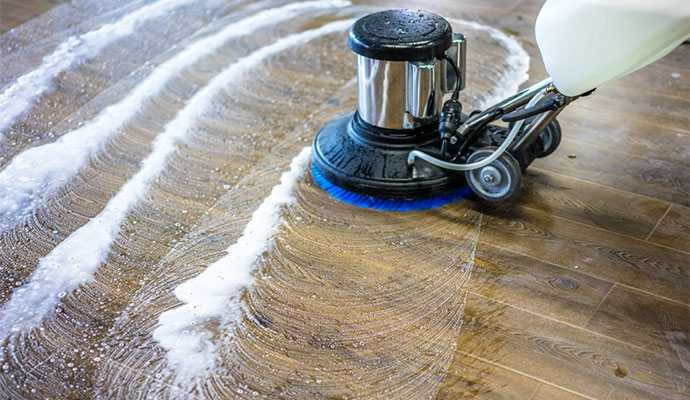 If your wood floors are looking dated, it may be time to seek professional help. Avoid getting overcharged by other service providers. Reach us for a detailed free inspection of your wooden floor before you start making costly decisions. We offer the most reliable and affordable floor cleaning & polishing services across Texas.
Valor Janitorial is a fully certified and licensed floor cleaning & refinishing service provider in the Dallas-Fort Worth area. We have the resources, the expertise, and the experience to give your wooden floors the new-like shine no time at all. For a FREE ESTIMATE for your wooden floors in Cedar Hill, Saginaw, Coppell, Benbrook, and more across Texas, give us a call at 214-238-9550.
Professional Inspection by Valor Janitorial
Our professionals can conduct a free inspection of your flooring, based on the type of wood you have. In addition to our comprehensive wood floor inspection, we also consider the condition that it's in, in order to give you the best cleaning recommendations along with a detailed quote. We will only perform the tasks that you approve, so there's absolutely no risk in dialing our number and having us in your place to see how we can help.
Don't just take our word for it. Check out our Completed Jobs to see our recent projects and Reviews to see what others have to say about us!
---
Floor Cleaning & Polishing Services We Offer Across Texas
Alongside our wood floor cleaning, polishing, and inspection services, we also commercial cleaning and office cleaning services. Furthermore, our floor cleaning services include:
Contact Valor Janitorial for Wood Floor Free Inspection & Cleaning Services
Our experienced crew, specialized equipment, and commitment to excellence drive us to bring your floor back to its newly installed form. No matter the industry or the type of space, we have the experience and the professional training that extends beyond the traditional janitorial service provider. Contact us online or call us 24/7 at 214-238-9550 for free wood floor inspection across Texas.