Floor Scrub and Restoration in Dallas, TX
Natural stone floors are an attractive and exquisite flooring option for your home. But with time, wear and tear are unavoidable. Harsh chemicals on these torn and worn-out floors may make it worse. But thankfully, stone floors are natural and durable materials that can be restored.
Stone floor restoration depends on the type of floor you have and the way it has been maintained. For example, specific stones like limestone, marbles etc., are acid-sensitive floors. So when you use these types of flooring in the kitchen, spilling is normal, and that's why frequent restoration of the natural kitchen floor is a must.
If you are living in Alvarado, Burleson, Cedar Hill, Duncanville or nearby areas, contact Valor Janitorial for your floor scrubbing and restoration services. Call us at 214-238-9550 for free estimates and more information. We are available 24/7 for emergency services.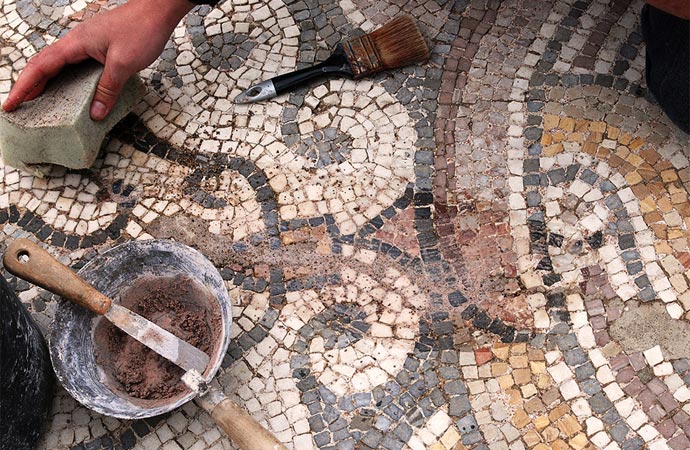 Stone Floor Restoration
Here are a few things you can do to restore your floors to its previous condition -
Identify the type of material you're dealing with. There could be simple acid testing to determine if it is calcareous or siliceous when choosing the material. Calcareous stones can't take acidic soap or washing materials, whereas siliceous rocks can withstand acidic washing.
Sometimes a deep cleaning can do a lot to your old floor. The older your floors get, the more dirt it contains. You can use a few good floor washing products, scrubbers, and sealants to restore your floor.
After deep cleaning your floor and leaving it to dry, you should wait for a few days to use sealant. Sealants only take a few hours to dry, but it is better not to put additional pressure on the floor for the next three days. For example moving furniture or heavy appliances.
After restoring the floor, you should maintain cleanliness to keep the floors looking good. Regular sweeping and vacuuming, cleaning any spills immediately, brushing food crumbs away, so they do not scratch the floor etc., things like this should be maintained.
Contact Valor Janitorial for Your Dallas Properties Floor Scrub & Restoration
Floors are often ignored and thus lose their charm. Your place is not going to look excellent if your flooring is shabby. But do not worry; simply contact us online or call us at 214-238-9550 for a professional floor scrub and restoration service. We have years of experience to back us up along with an excellent team of professionals.
We also can provide you services for floor polishing, floor buffing, carpet protection, and many other benefits. So please get in touch with us today to avail of our services.