Flooring Maintenance Service in Dallas, TX
Sometimes we don't realize that, like all other things, our floors need maintenance to keep them in good condition. We often ignore taking care of our floor after installation, making it decay and wear out with time. But if you are careful from the start, you can have a gorgeous base that compliments other things of your house for a long time.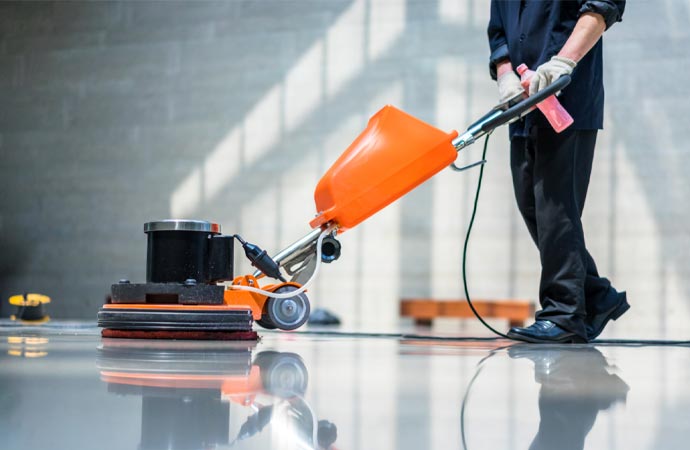 You can regularly do maintenance work on your floor to keep it well. But to make it shiny and brand new, you need professional help. And here's when we come into the picture. Valor Janitorial can do your floor maintenance work with its expert team and time-tested methods. We use state-of-the-art technology for all our services.
If you live in Allen, Benbrook, Carrollton, DeSoto, and other DFW cities, then make sure to call us at 214-238-9550 for a free estimate and to avail of all our services. We are available 24/7 for emergency work.
Floor Maintenance Tips
The floor is something you can't avoid using. We are continuously walking on floors and making them take loads. So to keep it in good condition we need to follow certain things to take care of our floors. Here are a few things you can do to keep your floor in good condition-
If there has been a spilling accident, then you must. Clean it immediately. Because standing liquid on the hardwood floor is damaging and it can lead to warping.
You should sweep and vacuum your floor regularly for Mai tenancy purposes. Use a hard surface attachment when you clean.
Try to keep doormats on every door because doormats will keep dirt, sand, and other substances from entering your floor.
It would help if you took precautions when moving heaving objects like furniture on your floor.
Use close curtains or blinds to protect your floor from harmful sun rays.
Use a floor protector to keep your floor from being crushed or dented from the furniture.
If you own pets, then remember to trim their nails always.
Let Us Clean & Maintain Your Floors in Dallas, Fort Worth, and Arlington
We are an award-winning IICRC certified company that has been providing quality services to our Dallas, TX, and other areas of the DFW Metroplex customers for a long time. Our hard-working, expert, licensed, and trained teams know their job and execute them perfectly.
Besides giving you flooring services, you may expect us to do janitorial services, floor polishing, carpet cleaning, and many other works. Contact us online or call us at 214-238-9550 to know more about our services.