Professional Water Damaged Carpet Cleaning in Bedford, TX
When excess water is on your property and doesn't get addressed immediately, building materials, furnishings and other porous objects will absorb the water and become damaged in the process. Sometimes, the damage can be easily dealt with, especially if there is a small amount of water that is clean. But other times, the damage is more difficult to handle, because the water involved is heavily contaminated. One thing in particular that may suffer water damage is your carpet.
Carpeting is a costly expense, so it can be especially concerning to find it in a ruined state and think it needs replacement. However, carpet water damage isn't unfixable, and carpet replacement isn't always necessary. We understand how stressful it can be when your home or business is flooded and carpet get damaged by water. We have  years of professional experience restoring flooded buildings and drying and cleaning water damaged carpet.
Whether it's the washing machine overflowing into 1 or 2 rooms, or with heavy rains the whole house is now covered in water, we can deal with your flood damaged carpet and restore your home or office quickly, with as little interruption as possible. If you have flooded or water damaged carpet or a building that needs attention, call us on 214-238-9550 anytime.
Drying Your Carpets after Water Damage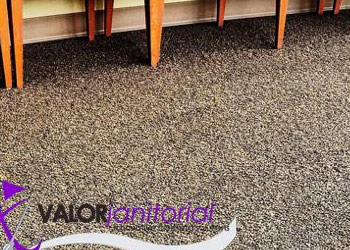 We have a large inventory of drying equipment including, air movers and commercial dehumidifiers which give us the ability to dry out your carpets quickly and effectively. We also have specialised apparatus for structural drying as frequently, if the carpet is wet, walls, subfloor and other areas are also wet.
Our process involves:
Moving furniture to unaffected areas
Extracting any excess water from affected areas with high powered vacuum using purpose-built water extraction tools
Lifting of carpets
Drying carpets using high powered fans, commercial dehumidifiers and other specialised drying equipment
Re-laying your dried carpets
Sanitising and cleaning water damaged carpet
Contact us for 24/7 for Emergeny Water Damaged Carpet Cleaning Service
Valor Janitorial has pledged to perform carpet, upholstery and fabric furniture cleaning services with skill, honesty, and integrity in order to provide the consumer with the highest degree of professionalism possible. We are a 100% satisfaction guaranteed water damged carpet cleaning company in Texas dedicated to serving your cleaning needs and solving your carpet cleaning individual situations. You can always get our services in Pilot Point, Plano, Ponder, Quinlan, Red Oak, Richardson, Rio Vista, Roanoke, Rockwall, Rowlett and nearby communities. 
We offer 24/7 same day service for your emergency carpet or water damage cleaning needs. You can contact us online 24/7 with your desired appointment time and we will confirm your appointment promptly or call us at 214-238-9550.