Keeping Acoustic Ceiling Tiles Clean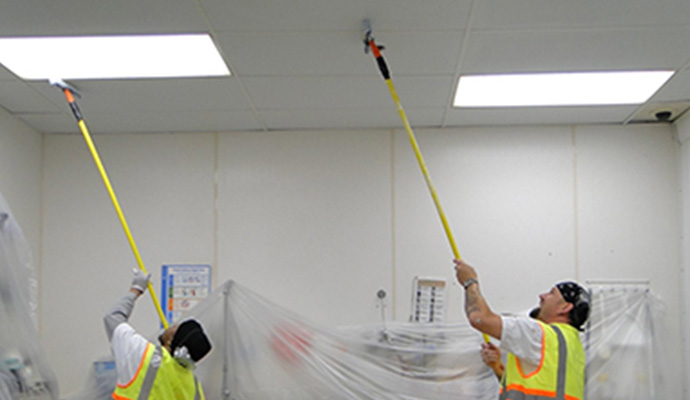 Acoustic ceiling tiles are a common sight in most office buildings for a good reason. These tiles reduce the noise in the workplace, making it easier for people to produce in a quieter environment. Aside from absorbing noise, these ceiling tiles also hide ductwork, pipes, and wiring. They are also fire-resistant.
Over time, these acoustic tiles will absorb contaminants and particulates in the air. Dust, smoke, and other airborne irritants stick to these tiles, leaving stains that make them look dingy over time.
How can you keep your acoustic ceiling tiles from looking stained and dingy? Here are some helpful tips:
What to Do To Keep Acoustic Ceiling Tiles From Deteriorating
To prevent the deterioration of your ceiling tiles, you should have a maintenance plan in place. This involves scheduled cleaning of these tiles on a regular basis. It is recommended that you do this at least once a year.
If your acoustic ceiling tiles have stains on them that cannot be addressed with a regular cleaning, have a professional cleaning company remove these stains. There are chemicals and procedures that will address the situation. Some products can be used to cover up these stains without destroying the integrity of your tiles, and a professional cleaning company like Valor Janitorial will know the steps to take.
What to Do When Your Acoustic Ceiling Tiles Are Beyond Cleaning
If you find that your acoustic ceiling boards can no longer be helped with cleaning and stain removal, you should replace them. For replacement tiles or to set up a maintenance plan for your existing tiles, Valor Janitorial is the company to call for office cleaning and janitorial services in Dallas, Texas. We have trained and certified cleaning professionals that can help keep your office spic and span. 
When you need our services, contact us to schedule your free estimate or give us a call at 214-238-9550 to set up a consultation or get more information.