Caring for Your Marble Floors the Easy Way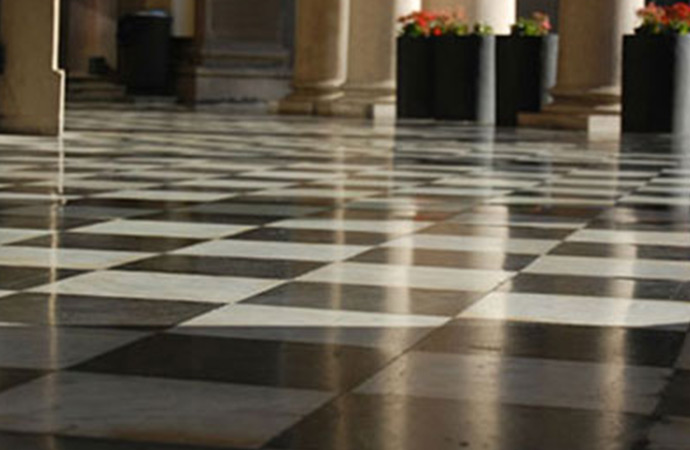 Marble is luxurious, beautiful and a wonderful addition to your home. Of all the stones available, marble is like a princess; homeowners that have marble floors must know that to maintain the floor's shine and prevent scratches, you must take care of your floor.
But don't fret, cleaning your marble floors isn't as time-consuming as you may think. As long as you use a PH-neutral solution, you can clean your floors with ease. If you introduce your marble floor to vinegar, it will scratch and lose its beautiful shine. Use a highly-diluted mixture of ammonia and water, or a highly diluted mixture of dish soap mixed with water. For each mixture, use no more than 1/2 cup of ammonia or dish soap in a bucket of water.
Dry with a Soft Towel
After you've finished mopping your floors, it's recommended that you treat your floors right and dry the princess of floors with a soft, fluffy towel. This is an important step because marble is quite porous, so water that stays on it can seep into the stone, and cause unsightly stains. Afterwards, apply a protective sealer to fill in each pore and to keep spills on the surface-level only, minimizing stains and allowing you enough time to wipe it away before it can do any damage.
Do dust your marble floors frequently using non-treated and impeccably clean dust mops. Your main enemies here are sand, dirt and grit because they gradually wear away the natural stone surfaces, because of how abrasive they are. On an average, it takes somebody eight full steps on the floor to remove sand or dirt from the bottom of their shoes. Avoid using worn-out vacuum cleaners, because the metal or plastic attachments from the wheels could scratch the surface.
One thing people may not realize is that hardwood has a lifespan that endures about as long as its style. A good quality wood floor can last 100 years, or about ten refinishings. However, if you get a laminate, it will only endure one refinish.
Dress your floors right and do place rugs underneath your marble flooring, especially in areas where many people may be walking through. It's recommended that you ask guests to leave their shoes at the door, and use gentle pads underneath all the furniture. To keep your marble shiny, try out 3 tbsp of baking soda mixed with 1 qt. of water and let it air-dry for a few hours before gently rinsing it out. Then, get a damp cloth and dip it in crushed chalk, and wipe your marble down before rinsing and letting it dry completely.
Need more Care?
We do hope that this article has been most helpful for your floor's needs. If there is anything else you wish to know, or need additional help in caring for your precious flooring, call us today. We are your logical choice at Valor Janitorial. If you're located in the surrounding areas of Dallas, Texas and are in need of our services, call 214-238-9550 now. For the Dallas-Fort Worth areas, we also offer various janitorial and floor cleaning and polishing services. If you need more of our excellent services, don't hesitate to check out our contact page here.