Commercial Pressure & Power Washing in Dallas, Fort Worth, & Plano
When you need spotless frontage for your business, commercial power washing is the way to go. This cleaning process not only revitalizes structures but also removes all obstinate stains, filth, and grime from all the appropriate areas.
Pressure washing, also known as power washing, removes undesired materials from buildings, masonry, fences, and concrete surfaces by spraying water under high pressure. While the phrases are interchangeable, hot water is utilized in industrial cleaning circumstances to remove difficult oil stains, grease buildup, and other contaminants.
Commercial power washing can improve the appearance of your property. You can rest confident that we will take care of whatever cleaning needs you may have for your deck, siding, concrete walkway, sidewalks, and driveway. Contact us at 214-238-9550 to know more about our service with free estimates!
Benefits of Commercial Power Washing in Dallas, TX
If you aren't aware of the benefits, power washing your home may appear to be an unnecessary expense, but it should be a part of every homeowner's maintenance practice. The exterior of your property is constantly exposed to severe natural elements such as the sun, wind, dirt, ultraviolet rays, insects, and birds — not to mention acid rain, smoke, pollution, and auto exhaust, etc. These constant threats on your property cause soiling, discoloration, and damage.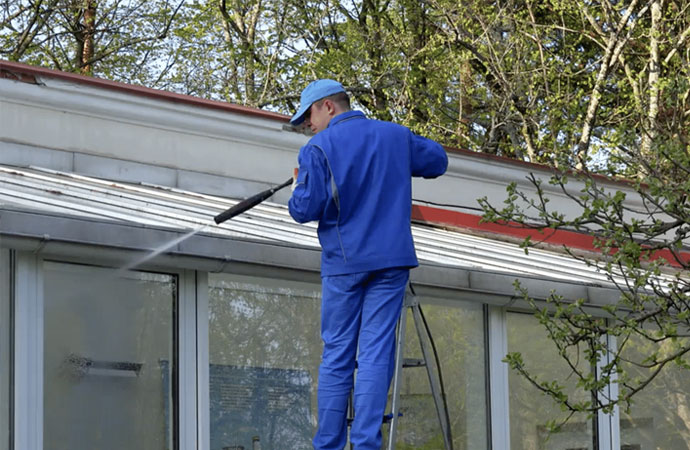 Power washing is the most effective and efficient way to clean your commercial space's exterior and safeguard your investment, your time, and your family's health. There are several benefits of power washing-
Enhance the Appearance of Your Building's Exterior: It is always necessary to improve the exterior appearance of your building, whether the owner is wanting to sell or lease space. Having your building cleaned by experienced pressure washing cleaners on a regular basis might actually assist to increase its worth. It will give the building a fresher, more appealing appearance.
Prevents Damage: Moisture can cause major damage and discoloration to your home's exterior surfaces over the winter. Allowing filth to remain on your surfaces or stains to sit over long periods of time can cause permanent damage. In addition, the Texas sun beats down harshly year around, discoloring and wearing away outside surfaces. Power washing removes dirt and grime and prevents them from turning into permanent damage.
Protection for Health and Safety: By removing potentially dangerous substances, pressure washing can assist in improving the work environment for personnel in the building. Pollen, pollution, dust, grime, mildew, algae, and bird droppings can all cause health problems such as breathing difficulties, allergies, and illnesses. Pressure washing gets rid of these substances and, when done regularly, helps prevent them from developing.
Time and Environment Friendly: Pressure washing is the most efficient way to clean the exterior of your home. When it comes to cleaning, efficiency is crucial because your time is priceless. You won't have to bother with mixing cleaning chemicals, climbing ladders, or scrubbing tough stains if you hire our specialists to power wash your property. Additionally, our service is not only gentle for your family, but also environmentally friendly as well. At Dallas, we pride ourselves on being eco-friendly and responsible. All of our cleaning solutions are non-toxic and safe for pets and children. All of our pressure washing techniques are also safe on your grass, plants, and other shrubberies around your home.
Count on Us for Commercial Pressure Cleaning in Dallas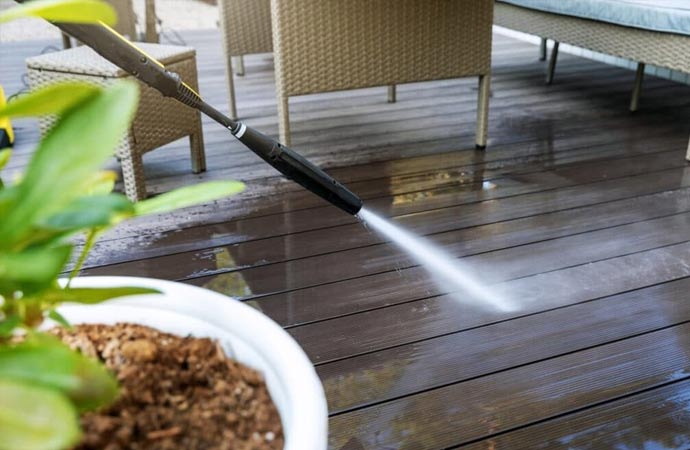 Our professional contractor comes with proper insurance, equipment, experience, and knowledge. We use specialized pressure washers and cleaning solutions. Also, we follow a detailed process that begins with on-site surveys of your building and goes on to identify potential hazards and problem areas. Depending on that, we make an action plan to address all the issues of your property.
Apart from pressure cleaning, we also provide services for other janitorial services such as office cleaning, nightly office cleaning, commercial space cleaning, restroom cleaning, concrete floor cleaning, marble floor cleaning, commercial carpet cleaning, and more! We provide our janitorial services in Addison, Bedford, Carrolton, Everman, Haslet, Krum, and other cities throughout the Dallas-Fort Worth Metroplex.
Please contact us today at 214-238-9550 or click here to book an appointment to get our janitorial services.