Cleaning windows is an important task that should be included in your regular cleaning routine. However, cleaning your windows properly isn't always simple. Even using normal window cleaning techniques as your go-to methods, still can't beat the quality that professional cleaners have to offer.
If you're interested in seeing the difference that professional window cleaning has to offer, contact Valor Janitorial today. Our window cleaning method is unlike any other, and it ensures that your windows are handled with the utmost care.
Why let Valor Janitorial Clean Your Windows?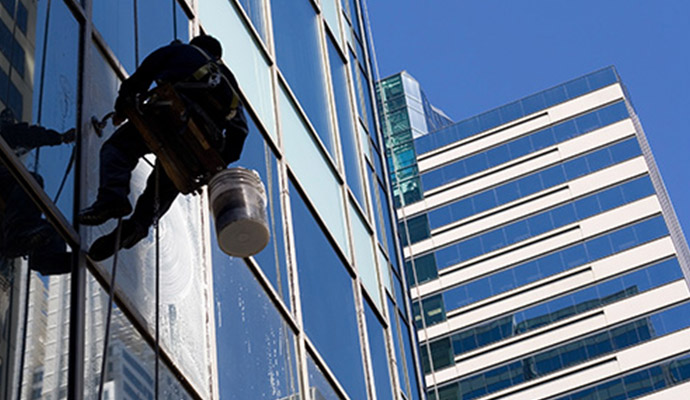 Window cleaning may look easy, but there's a certain degree of difficulty depending on the number, type, and location of your windows. Office buildings and properties that have several windows take a longer time to clean and windows that have intricate designs or delicate glass (e.g. stained-glass) need extra care. Not to mention, windows that are tall or located in high areas are often quite difficult and dangerous to clean.
With Valor Janitorial, you no longer need to worry about how you're going to clean your windows. Our professional window cleaning procedure will not only get rid of the dust and dirt on your windows, but it also gives you the following benefits:
Faster Cleaning - No matter what type, size, or location your windows are in, we'll have them cleaned in no time. We've been in the janitorial service business for many years, so we've perfected our various window cleaning techniques to a tee. A faster window cleaning process also means that we'll be out of your hair quicker. You'll be able to go on with your normal activities with fewer interruptions and less stress.
Safe for You and Your Windows - We know that not all windows are made alike. Some windows incorporate thinner glass in their construction while others are built with different colors and designs. To preserve the beauty of your windows, we will use the appropriate window cleaning procedures for your particular windows. Professional window cleaning ensures that there are no scratches, stains, or marks created during the entire cleaning process. We'll also apply the correct amount of pressure, so not to damage the glass.
Give Your Windows a Better Shine - The most recognizable difference you'll notice when having your windows professionally cleaned is how spotless your windows will look. Professional window cleaning produces top-notch cleaning results and quality, so don't be surprised when your windows look better than your neighbors. Better looking windows also increase curb appeal and decrease the blandness of your property.
---
Contact Valor Janitorial today at 214-238-9550 if you want your windows professionally cleaned. We are available and ready to help you 24/7, and our services are available to properties in the Greater Dallas, Texas Metroplex.