Commercial Carpet Cleaning & Indoor Air Quality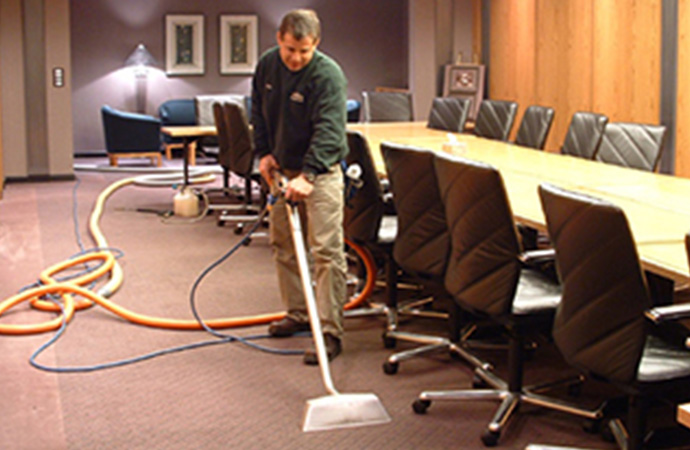 The amount of dirt in your carpet can affect the quality of the air inside your office. If you do not have your carpets cleaned professionally on a regular basis, you are exposing yourself and your co-workers to microbes and contaminants found in your floor covering that could impact their health. Every time someone walks on your carpet, particulates are released and inhaled by people inside your office.
The Connection Between Carpet Cleanliness and Air Cleanliness
While it is not that evident to many, there is a connection between indoor air quality and the cleanliness of your carpet. Dirty carpets hold lots of contaminants that can be launched into the air on a regular basis. Even the act of vacuuming can release harmful allergens and microbes into the air.
The longer you neglect to have your carpets cleaned professionally, the dirtier they will become and the more irritants will be present in your air. Among the disease-causing bacteria that thrive in your dirty carpets are allergens such as dander, pollen, dead skin cells, and dust mites. These will make your air quality very poor.
Improve Indoor Air Quality with Scheduled Commercial Carpet Cleaning
If you want to reduce the possibility of disease and respiratory ailments in your workplace, it is a good idea to have your carpets cleaned professionally on a regular basis. Once every 6 months should help you keep indoor air quality at a level where there are fewer contaminants in the air to cause illnesses and respiratory ailments. Not only will you have cleaner air with a professionally cleaned carpet, but you will also have a workplace that smells cleaner and fresher.
When it is time to have your carpets professionally cleaned at your office in the Dallas, Texas area, your best choice is Valor Janitorial. With years of experience and certified cleaning professionals on our roster, you can be sure that your cleaning needs are covered. Aside from carpet cleaning, we also offer window cleaning, office cleaning, and janitorial services.
For all your professional cleaning needs, contact us at 214-238-9550 and we will be happy to help you.