Restroom Hygiene- Get the Best Cleaning Service in Dallas, TX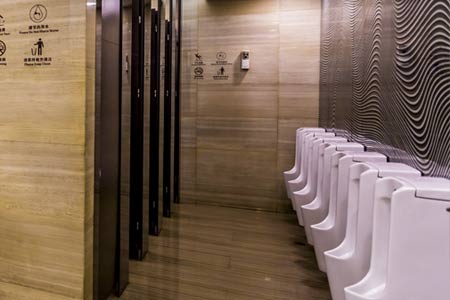 Infectious diseases, germs, bacteria, and viruses thrive in restrooms. At any given time, billions of pathogens could be living on and inside your restroom fixtures.
Even if your restroom surfaces appear to be clean at first glance, they may be harboring harmful germs and bacteria. A single toilet flush can disperse millions of water particles up to 20 feet, carrying dangerous bacteria and viruses with it.
Valor Janitorial provides removes hard water deposits and mineral deposits, restoring your toilets and urinals to like-new. Sinks and water fountains can sometimes be restored using the same process. Our services are also available to the general public. Electrostatic spraying of a hospital grade germicide is included in Valor Janitorial's restroom cleaning services to help fight germs and bacteria.
Call us at 214-238-9550 to know more about our service with free estimates!
The Benefits of Restroom Hygiene Service
Maintaining safe and sanitary restrooms is Valor Janitorial's specialty. We've built our commercial restroom cleaning service from the ground up, with protecting your brand, your business, your staff and customers in mind.
Reduction in bacteria and viruses improving employee absenteeism
Reduce unpleasant odors keeping your facilities clean and pristine
Hand soap and dispensers refilled weekly at no additional cost
Air Care products and maintenance included at no additional cost
Elimination of additional janitorial supplies
Convenient Restroom Cleaning in Dallas, TX
Valor Janitorial is proud to offer professional cleaning and sanitation services that are both affordable and effective. The sanitation and cleaning procedures in the bathroom are carried out with the use of extremely powerful equipment and methods. Our cleaning crew is well-versed in how to carry them out.
We understand that our customers and employees are entitled to a clean bathroom. Never hesitate to contact us for all of your cleaning requirements. The methods we employ can clean bathrooms while also leaving them smelling fresh. Every single floor, sink, toilet, and urinal will be thoroughly cleaned.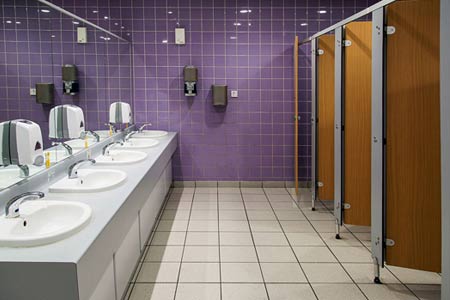 You can also contact us for office cleaning, floor cleaning polishing, commercial carpets cleaning services. Valor Janitorial is expert  in high level cleaning for removing dust, dirt and grime from these hard to reach places, so that your location can look exceptional and be as safe as possible.
We provide a premium service across Dallas, Fort Worth, Arlington, Richardson,  Plano, Garland, Irving, Grand Prairie, Carrollton, Rockwall, Frisco, Mesquite, Denton and nearby cities.
Satisfactory Restroom Cleaning in Dallas, TX
Our health and safety technicians use powerful cleaning products that have been scientifically proven to be extremely effective at reducing the level of dangerous bacteria present in the restroom facilities that we service. These products help keep your facilities looking clean and pristine while also lowering the risk of your employees and customers becoming unwell.
Providing a hygienic restroom experience doesn't mean flushing your profits down the toilet. Valor Janitorial understands your need for affordable solutions, while showcasing your commitment to cleanliness. By providing and servicing all items necessary for the healthy operation of your restroom, we save you money by reducing your need to purchase large quantities of costly restroom maintenance products and cleaning supplies, and simplify hygiene training for your employees. Valor Janitorial is expert  in high level cleaning for removing dust, dirt and grime from these hard to reach places, so that your location can look exceptional and be as safe as possible.
So hurry up and call us at 214-238-9550 or contact online to avail our top notch services.