Commercial Restroom Cleaning Services in Dallas-Fort Worth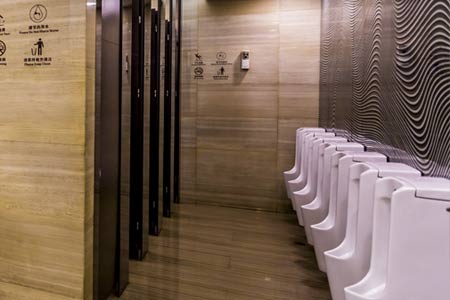 Even if your restroom surfaces seem clean at first glance, they could harbor harmful germs and bacteria. A single toilet flush can spread dangerous bacteria and viruses.
Valor Janitorial can remove hard water and mineral deposits, restoring your toilets, urinals, sinks and water fountains to like-new. We provide services to the general public. Electrostatic spraying of hospital-grade germicide is included with Valor Janitorial restroom cleaning services for further protection.
Call us at 214-238-9550 to learn more about our services and free estimates!
Benefits of Valor Janitorial Restroom Services in D/FW
Maintaining safe and sanitary restrooms is a Valor Janitorial specialty. Here is what you can expect of our superior restroom cleaning:
Reduction in bacteria and viruses, thus reducing employee absences
Severe Odor reduction to keep facilities more pleasant and pristine
Hand soap and dispensers refilled weekly at no additional cost
Air Care products and maintenance included at no additional cost
Elimination of additional janitorial supplies
Valor Janitorial Goes Above & Beyond To Keep Dallas-Fort Worth Restrooms Sparkling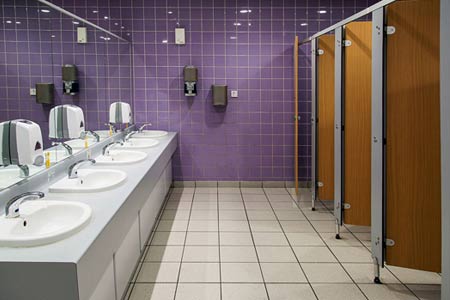 Valor Janitorial wants your customers and employees to experience the cleanest restrooms possible. We can answer any questions about our restroom cleaning services, our processes and materials or equipment used. We won't be happy until every floor, sink, toilet and urinal are thoroughly cleaned.
Our microfiber cleaning materials leave restroom surfaces sparkling. Restroom odors aren't just masked; they're neutralized by removing the bacteria that cause them.
We provide superior restroom cleaning services across Dallas, Fort Worth, Arlington, Richardson, Plano, Garland, Irving, Grand Prairie, Carrollton, Rockwall, Frisco, Mesquite, Denton and throughout the D/FW Metroplex.
Valor Janitorial is also available for office cleaning, floor cleaning polishing, and commercial carpets cleaning services. We are skilled at hard-to-reach or difficult cleaning jobs to make your facility exceptionally clean and safe. Call us at 214-238-9550 or contact us online.
Valor Means Quality, Affordable Restroom Cleaning Services in D/FW
Providing a hygienic restroom experience doesn't mean flushing your profits down the toilet.
Valor Janitorial understands your need for affordable solutions, while supporting your commitment to cleanliness. We save you money by reducing your need to purchase large quantities of costly restroom maintenance products and cleaning supplies, and simplify hygiene training for your employees.
Don't delay to address your restroom cleaning needs. Call us at 214-238-9550 or contact us online.