Dental Office Cleaning Service | Dallas
Valor Janitorial provides healthcare facility cleaning services to dental chambers in Dallas, TX, and surrounding areas. When it comes to dental office cleaning, there is no other company that is better equipped to handle the job.
Our commercial cleaning company provides both routine maintenance and deep cleaning maintenance plans. With our customized cleaning service packages, you will get cleaning services that fit exactly what you need.
Call us today at 214-238-9550 to know more about our dental chamber cleaning facilities in Dallas with free estimates!
We Follow Proper Safety & Protocols for Dental Chamber Cleaning In Dallas, TX
Dental facilities have unique protocols, equipment, and patient areas, all of which require specialized cleaning methods. In addition, research-based recommendations are intended to ensure patients' and practitioners' safety by reducing the risk of health-associated infections and cross-contamination with proper cleaning services.
Few Tips to Maintain Proper Dental Office Cleanliness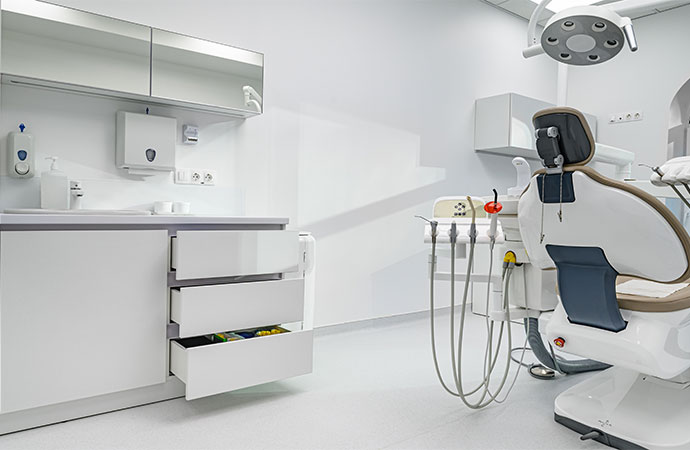 You can easily take your cleanliness to the top level by following a few tips-
Regularly Disinfect High-Touch Areas: Cleaning is the necessary first step in any disinfection protocol. First, remove and properly dispose of any visible debris. Then, thoroughly wipe down the entire patient treatment area with an EPA-registered disinfectant. Don't overlook the details. Check that you disinfect each of these frequently touched items: Patient chairs, armrests and headrests, X-ray equipment, Drawer handles, Cabinet and doorknobs, Faucets, and sinks
Maintain Bathroom Cleanliness: The state of your restroom deeply reflects your office's attitude towards cleanliness and patient care. Keep the restroom fully stocked and in good operating condition. There should always be toilet paper, soap, and paper towels available, and additional hygiene supplies or amenities can leave an even better impression. Make restroom checks a regular part of your maintenance routine, and address any plumbing issues immediately.
Dust All Surfaces: In addition to being unpleasant to look at, dust can aggravate respiratory conditions and may even carry nasty germs or bacteria that can contribute to the spread of illness. Regularly dusting all of your hard surfaces is a quick and easy way to keep your office feeling fresh while eliminating unwanted microbes from the air and environment.
Keep Reception Area Organized: Clear out the clutter in your reception area to create a positive first impression on patients as they walk through your door. Your waiting area should be a welcoming, relaxing environment that feels clean from the moment someone steps inside. Keep your furniture maintained, files stored away, and any magazines or entertainment materials neatly displayed. A clean, uncluttered environment shows patients you care about their comfort and are focused on delivering the best care possible.
Rely On Us for Your Dental Office Cleaning In Dallas, TX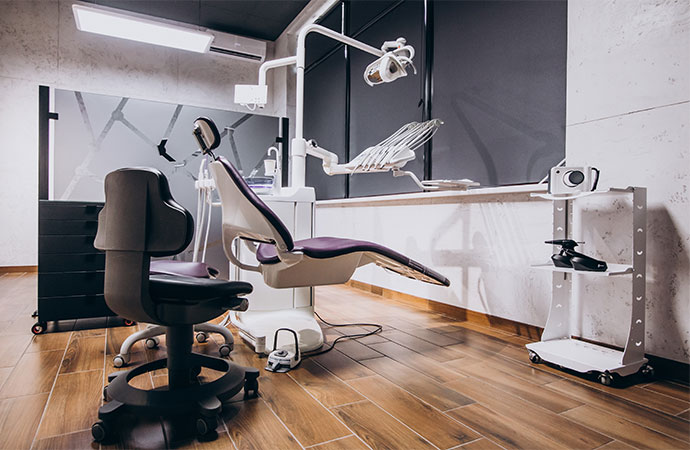 The health and hygiene of your dental chamber are our top priority. People expect that the dental procedures are carried out in a disinfected and clean environment. Dental office cleaning is the key to keep the visitors happy, stress-free, and confident of your services. Here are some of the ways through which you can spread an elated and hygienic smile across the faces of your patients.
Our efficient dental office cleaning methodologies ensure that your clients are always happy and you are able to provide them with ideal hygienic dental care. The high-end cleaning services make sure that the medical facilities follow the regulatory standards of health and hygiene. An ideal clinical environment is created by the use of specialized green cleaning products, and competent environment management.
Besides, dental chamber cleaning we also provide janitorial service for as Office Cleaning, Nightly Office Cleaning, Commercial Space Cleaning, Restroom Cleaning, Concrete Floor Cleaning, Marble Floor Cleaning, Commercial Carpet Cleaning, and many more!
You can reach us in Addison, Azle, Bedford, Carrolton, Denton, Everman, Fate, Garland, Haslet, Irving, Justin, Krum, Lillian, Milford, Oak Leaf, Pantego, Rockwall, Sanger, Trophy Club, Venus, Westlake, and nearby communities of Dallas, TX to get our janitorial services any time.
Please contact us at 214-238-9550 or contact us online to book an appointment to get our janitorial services.